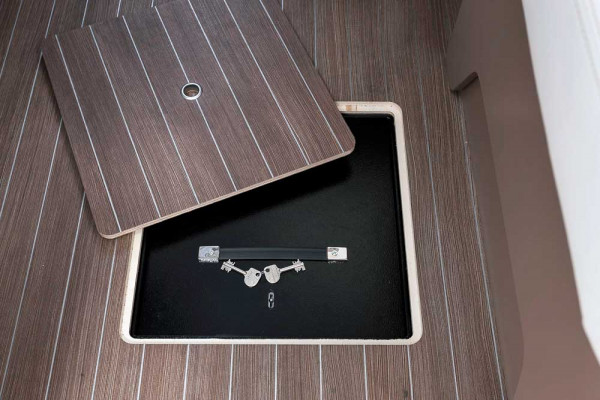 Safe for service hatch in floor
Recommended retail price including the applicable VAT. Prices may vary from country to country.
Simply send your noted products with the wishlist function to yourself, friends or your ETRUSCO trading partner!

ETRUSCO original accessories are not available ex factory, they are only available directly from your ETRUSCO licensed dealer. Images shown may be subject to modifications.
Suitable for vehicles manufactured by ETRUSCO
Model years 2017, 2018, 2019, 2020
Model range / model Integrated , Semi-Integrated
Safe for service hatch in floor
The Etrusco safe was exclusively developed for the service hatch in the floor beside the seating area, with the dimensions of the safe having been chosen so as to make maximum use of the space in the hatch. The hatch provides a sturdy home for the safe, thus ensuring robust protection against break-ins. When covered with the service lid, the safe is well hidden from thieves. This makes it the ideal place to safely store your travel documents, wallets and purses or other valuables.
The body of the safe is made of 3 mm steel and painted with impact and scratch resistant 2-textured paint. The removable door made from 6 mm-thick steel features a spring catch which sits flush with the top of the safe door, thus ensuring that the service hatch cover will lie flat when closed. As well as this, with its 3 cm inner door the safe is optimally protected against prying open. Two keys are included in the contents as well as fittings for fastening the safe. The keys are numbered and, if required, can be re-ordered using the key number.
Material:
Steel
Body: 3 mm, door 6 mm
Details:
Weight: 10,5 kg
Dimensions: (w x h x d): 34,5 cm x 9,0 cm x 34,5 cm
3 Bolt lock certified by vds
Made in Germany
Note: fits almost all vehicle layouts.
Write an evaluation
Evaluations will be activated after verification.